A Consul of the Philosophers on what is Given and what is not in the Cosmos
Palabras clave:
Astronomía bizantina, Matemáticas bizantinas, Cónsul de los filósofos, Lengua de los datos
Resumen
Un texto bizantino, atribuido a un "cónsul de los filósofos", aplica el "lenguaje de los datos" a los principales círculos de la esfera celeste, mostrando cuáles de ellos son "datos" y en qué sentido. Este texto se presenta aquí, editado, traducido y comparado con su fuente. También se ofrece una discusión sobre el autor del texto.  
Descargas
Los datos de descargas todavía no están disponibles.
Citas
F. Acerbi, Euclide, Tutte le Opere, Milano 2007.
F. Acerbi, The Logical Syntax of Greek Mathematics (Sources and Studies in the History of Mathematics and the Physical Sciences), Heidelberg – New York 2021.
F. Acerbi, I. Pérez Martín, "Les études géométriques et astronomiques à Thessalonique d'après le témoignage des manuscrits: de Jean Pédiasimos à Démétrios Kydônès", Byzantion 89 (2019), 1–35.
D. Bianconi, Tessalonica nell'età dei Paleologi. Le pratiche intellettuali nel riflesso della cultura scritta (Dossiers Byzantins 5), Paris 2005.
P. Caballero Sánchez, El Comentario de Juan Pediásimo a los «Cuerpos celestes» de Cleomedes (Nueva Roma 48), Madrid 2018.
G. Cardinali, Inventari di manoscritti greci della Biblioteca Vaticana sotto il pontificato di Giulio II (1503-1513) (Studi e Testi 491), Città del Vaticano 2015.
P. Carelos, Βαρλαὰμ τοῦ Καλαβροῦ, Λογιστική. Barlaam von Seminara, Logistiké (Corpus philosophorum Medii Ævi. Philosophi byzantini 8), Athens – Paris – Bruxelles 1996.
G. Cereteli, Iohannis Itali opuscula selecta, I–II, Tbilisi 1924–26.
C.N. Constantinides, Higher Education in Byzantium in the Thirteenth and Early Fourteenth Centuries (1204 – ca.1310), Nicosia 1982.
R. Devreesse, Le fonds grec de la Bibliothèque Vaticane des origines à Paul V (Studi e Testi 244), Città del Vaticano 1965.
M.R. Dilts, M.L. Sosower, A. Manfredi, Librorum Graecorum Bibliothecae Vaticanae Index a Nicolao De Maioranis compositus et Fausto Saboeo collatus Anno 1533 (Studi e Testi 384), Città del Vaticano 1998.
J. Evans, J.L. Berggren, Geminos's Introduction to the Phenomena. A Translation and Study of a Hellenistic Survey of Astronomy, Princeton – Oxford 2006.
G. Friedlein, Procli diadochi in primum Euclidis Elementorum librum commentarii, Lipsiae 1873.
D. Harlfinger, "Zur Überlieferungsgeschichte der Metaphysik", in P. Aubenque (ed.), Études sur la Métaphysique d'Aristote. Actes du VIe Symposium Aristotelicum, Paris 1979, 7–36.
J.L. Heiberg, H. Menge, Euclidis opera omnia, I–VIII, Lipsiae 1883–1916.
J.L. Heiberg, Claudii Ptolemaei opera quae exstant omnia, I.1–2, Syntaxis Mathematica, Lipsiae 1898–1903.
E. Hiller, Theonis Smyrnaei philosophi platonici Expositio rerum ad legendum Platonem utilium, Lipsiae 1878.
B.B. Hughes, Jordanus de Nemore, De numeris datis (Publications of the Center for Medieval and Renaissance Studies, UCLA 14), Berkeley – Los Angeles – London 1981.
P. Joannou, Ioannes Italos, Quaestiones quodlibetales, Ettal 1956.
B. Kotter, Die Schriften des Johannes von Damaskos (Patristische Texte und Studien 7), I, Berlin 1969.
S. Kotzabassi, Byzantinische Kommentatoren der aristotelischen Topik. Johannes Italos & Leon Magentinos, Θεσσαλονίκη 1999.
E. Maass, Commentariorum in Aratum reliquiae, Berolini 1898.
K. Manitius, Hipparchi in Arati et Eudoxi Phaenomena commentariorum libri tres, Lipsiae 1894.
K. Manitius, Gemini Elementa Astronomiae, Lipsiae 1898.
G. Mercati, P. Franchi de' Cavalieri, Codices Vaticani graeci. Codices 1–329, Romae 1923.
D. O'Meara, "Empédocle Fragment 143: Un nouveau témoignage chez Jean Italos", Revue des Études Grecques 123 (2010), 877–879.
I. Pérez Martín, "L'écriture de l'hypatos Jean Pothos Pédiasimos d'après ses scholies aux Elementa d'Euclide", Scriptorium 64 (2010), 109–119.
F.M. Petrucci, Teone di Smirne. Expositio rerum mathematicarum ad legendum Platonem utilium. Introduzione, Traduzione, Commento (Studies in Ancient Philosophy, 11), Sankt Augustin 2012.
Ch. Pfeiffer, Aristotle's Theory of Bodies, Oxford 2018.
A. Rigo, Giovanni Italo, Dizionario Biografico degli Italiani 56 (2001), online at https://www.treccani.it/enciclopedia/giovanni-italo_(Dizionario-Biografico)/.
M. Sialaros, R. Matera, J. Gerhold, G. Gamarra Jordán, "Searching for Definitions: Marinus' Introduction to Euclid's Data", SCIAMVS 20 (2019), 119–155.
M.L. Sosower, D.F. Jackson, A. Manfredi, Index seu inventarium Bibliothecae Vaticanae divi Leonis pontificis optimi : anno 1518 c. Series graeca (Studi e Testi 427), Città del Vaticano 2006.
Ch.M.Taisbak, ΔΕΔΟΜΕΝΑ. Euclid's Data or the Importance of Being Given (Acta Historica Scientiarum Naturalium et Medicinalium 45), Copenhagen 2003.
A. Tihon, "Les sciences exactes à Byzance", Byzantion 79 (2009), 380–434.
R. Todd, Cleomedis Caelestia (ΜΕΤΕΩΡΑ), Leipzig 1990.
G.J. Toomer, Ptolemy's Almagest, London 1984.
A.J.H. Vincent, Notice sur divers manuscrits grecs relatifs à la musique, comprenant une traduction française et des commentaires (Notices et extraits des manuscrits de la Bibliothèque du Roi et autres bibliothèques 16.2), Paris 1847.
D. Williman, K. Corsano, "Tracing Provenances by Dictio Probatoria", Scriptorium 53 (1999), 124–145.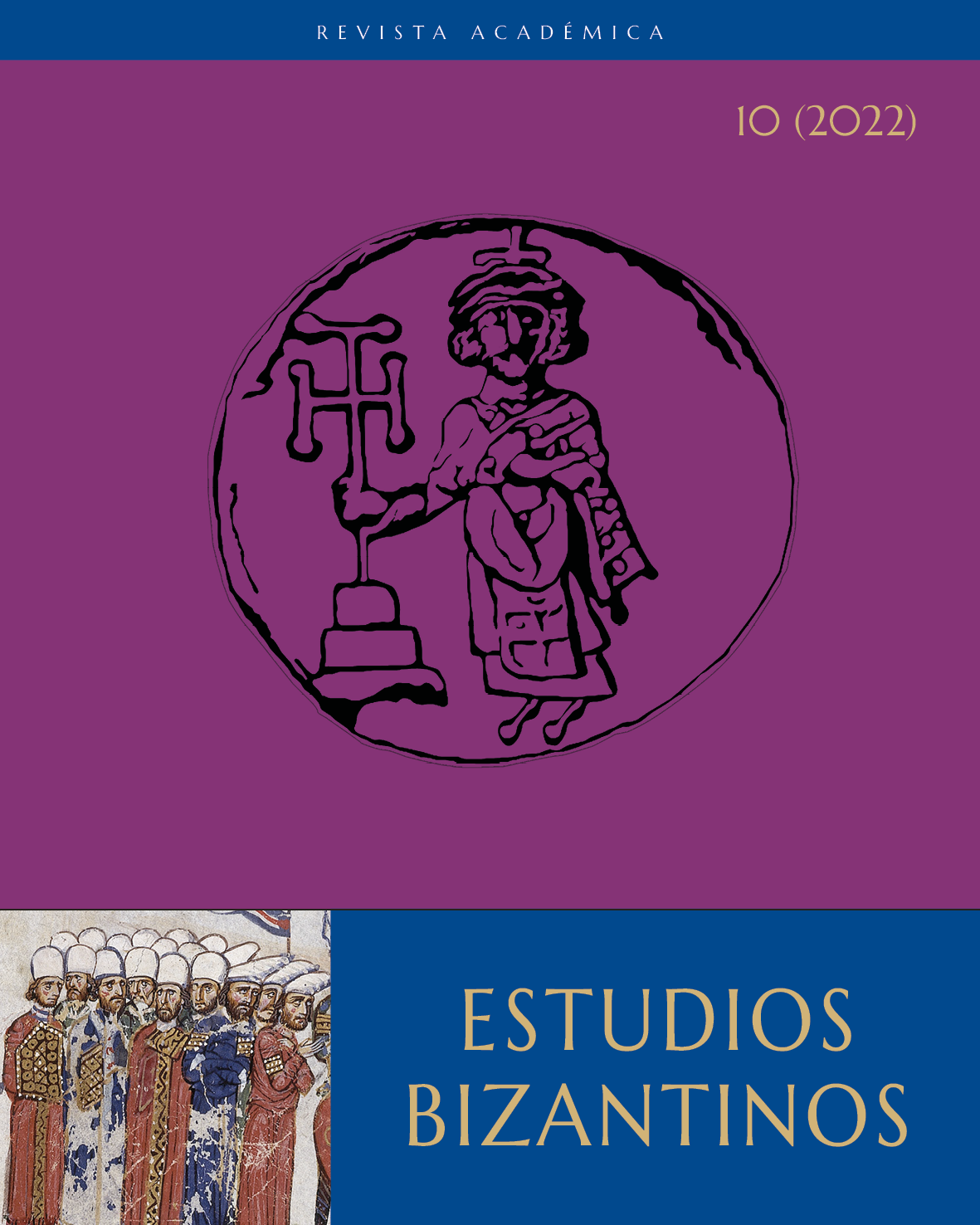 Descargas
Cómo citar
Acerbi, F. . (2022). A Consul of the Philosophers on what is Given and what is not in the Cosmos . Estudios Bizantinos, 10, 7-37. https://doi.org/10.37536/ebizantinos.2022.10.2068
Licencia
Derechos de autor 2022 Fabio Acerbi
Esta obra está bajo una licencia internacional Creative Commons Atribución-NoComercial-CompartirIgual 4.0.
Usted es libre de:
Compartir — copiar y redistribuir el material en cualquier medio o formato
Adaptar — remezclar, transformar y crear a partir del material
Bajo las condiciones siguientes: