Good Morning, Winner: Subverting Girl Nerd Stereotypes in Booksmart (2019)
Keywords:
teen film, film genre, nerds, coming-of-age
Abstract
Nerds have been a staple of teenage films for decades. Although these characters possess great intellectual abilities, their lack of social skills, sense of style, and romantic and sexual experience places them at the bottom of the high school's social scale. Despite the prevalence of this character type, girl nerds are scarce. Even though this lack of girl nerds can be attributed to the pressure for women—both real and fictional—to conform to beauty standards, it also reflects stereotypes regarding women's scientific and technical inclinations. Considering the fact that nerds are almost always interested in computers, the lack of girl nerds mirrors the STEM gender gap while contributing to its perpetuation by failing to provide role models for spectators. This article analyses how Booksmart (Olivia Wilde, 2019), a recent teen film in which the protagonists are two nerd girls, subverts nerd stereotypes by eschewing the makeover trope and placing an emphasis on internal transformation, sorority and a rejection of stereotypes.
References
Arky and Barrett. "Are You a Nurd?" National Lampoon Gentleman's Bathroom Companion, 1975, http://thetrad.blogspot.com/2011/08/are-you-nurd.html
Banet-Weiser, Sarah. Empowered: Popular Feminism and Popular Misogyny. Duke University Press, 2018.
Bernárdez Rodal, Asunción. Soft Power: Heroínas y Muñecas en la Cultura Mediática. Fundamentos, 2018.
Brooks, David. "Alpha Nerds." New York Times, 23 May 2008, https://www.nytimes.com/2008/05/23/opinion/23iht-edbrooks.1.13161522.html.
Bryant, Jessica. "Women Continue to Outnumber Men in College Completion." Best Colleges, 2021, https://www.bestcolleges.com/news/analysis/2021/11/19/women-complete-college-more-than-men/.
Bulma, Robert C. Hollywood Goes to High School. Cinema, Schools and American Culture. Worth Pub-lishers, 2005.
Campbell, Raewyn. "I Can't Believe I Fell for Muppet Man!: Female Nerds and the Order of Dis-course." Smart Chicks on Screen: Representing Women's Intellect in Film and Television, edited by Laura Mattoon D'Amore, Rowman & Littlefield, 2014, pp. 179–92.
Clarke, Kyra. "Becoming Pregnant: Disrupting Expectations of Girlhood in Juno (2007)." Feminist Media Studies, vol. 15, no. 2, 2015, pp. 257–70, https://DOI.org/10.1080/14680777.2014.945606
Forbes. "World's Billionaires List: The Richest in 2022." Forbes, 2022, https://www.forbes.com/billionaires/.
Fry, Richard, et al. STEM Jobs See Uneven Progress in Increasing Gender, Racial and Ethnic Diversity. Pew Research Center, 1 Apr. 2021, https://www.pewresearch.org/science/2021/04/01/stem-jobs-see-uneven-progress-in-increasing-gender-racial-and-ethnic-diversity/
Gill, Rosalind. "Post-postfeminism?: New Feminist Visibilities in Postfeminist Times." Feminist Me-dia Studies, vol 16, no. 4, 2016, pp. 610–30. DOI: 10.1080/14680777.2016.1193293
Hine, Thomas. The Rise and Fall of the American Teenager: A New History of the American Adolescent Experience. Perennial, 1999.
Kendall, Lori. "Nerd Nation: Images of Nerds in US Popular Culture." International Journal of Cultur-al Studies, vol. 2, no. 2, 1999, pp. 260–83. DOI: 10.1177/136787799900200206
Lane, Kathryn E. "How Was the Nerd or Geek Born?" The Age of the Geek: Depictions of Nerds and Geeks in Popular Media, edited by Kathryn E. Lane, Palgrave Macmillan, 2018, pp. 1–18.
Madigan, Jennifer C. "The Education of Women and Girls in the United States: A Historical Perspec-tive." Advances in Gender and Education, vol. 1, 2009, pp. 11–13.
Miller, Claire Cain. "Tech's Damaging Myth of the Loner Genius Nerd." New York Times, 12 Aug. 2017, https://www.nytimes.com/2017/08/12/upshot/techs-damaging-myth-of-the-loner-genius-nerd.html
"Nerd." Oxford English Dictionary, 2022, https://www.oed.com/view/Entry/126165
Nugent, Benjamin. American Nerd: The Story of My People. Scribner, 2008.
Palladino, Grace. Teenagers: An American History. Basic Books, 1996.
Rivers, Nicola. Postfeminism(s) and the Arrival of the Fourth Wave. Palgrave Macmillan, 2017.
Rose, Deondra. "Regulating Opportunity: Title IX and the Birth of Gender-Conscious Higher Educa-tion Policy." The Journal of Policy History, vol. 27, no. 1, 2015, pp. 157–83. DOI: 10.1017/S0898030614000396
Shary, Timothy. Generation Multiplex: The Image of Youth in American Cinema since 1980. University of Texas Press, 2014
—. "The Nerdly Girl and Her Beautiful Sister:" Sugar, Spice, and Everything Nice: Cinemas of Girl-hood, edited by Frances Gateward and Murray Pomerance, Wayne State University Press, 2002, pp. 235–52.
Stanley, Jessica M. The Nerd Hour Is at Hand: Portrayals of Geeks and Nerds in Young Adult Literature and Popular Media. Longwood University, 2015, https://digitalcommons.longwood.edu/etd/129/.
Stone, Rob. Lady Bird: Self-Determination for a New Century. Routledge, forthcoming.
Thibault, Marie. "The Next Bill Gates." Forbes, 2010, https://www.forbes.com/2010/01/19/young-tech-billionaire-gates-google-yahoo-wealth.html?sh=60c1d0783333.
Thompson, Clive. "The Secret History of Women in Coding." The New York Times Magazine, 13 Feb. 2019, https://www.nytimes.com/2019/02/13/magazine/women-coding-computer-programming.html.
UNICEF. Towards an Equal Future: Reimagining Girls' Education through STEM. United Nations Chil-dren's Fund, ITU, 2020.
Willey, Angela, and Banu Subramaniam. "Inside the Social World of Asocials: White Nerd Mascu-linity, Science, and the Politics of Reverent Disdain." Feminist Studies, vol. 43, no. 1, pp 13–41. DOI: 10.15767/feministstudies.43.1.0013
Winch, Alison. Girlfriends and Postfeminist Sisterhood. Palgrave Macmillan, 2013.
Wood, Robin. Hollywood from Vietnam to Reagan... and Beyond. Columbia University Press, 2003.
FILMOGRAPHY
Things I Hate About You. Directed by Gil Junger. Touchstone Pictures / Mad Chance / Jaret Enter-tainment, 1999.
Directed by Ridley Scott. Apple Computer Inc., 1984.
Blockers. Directed by Kay Cannon. Universal Pictures, 2018.
Booksmart. Directed by Olivia Wilde. Ammapurna Pictures / Gloria Sanchez Productions, 2019.
easy A. Directed by Will Gluck. Screen Gems / Olive Bridge Entertainment, 2010.
Election. Directed by Alexander Payne. MTV Productions / Bona Fide Productions, 1999.
Euphoria. Created by Sam Levinson. A24 / HBO Entertainment, 2019–ongoing.
Dumplin'. Directed by Anne Fletcher. Echo Films / COTA Films, 2018.
Hackers. Directed by Iain Softley. United Artists, 1995.
High School Musical. Directed by Kenny Ortega, Salty Pictures / First Street Films, 2006.
Jennifer's Body. Directed by Karyn Kusama. Fox Atomic / Dune Entertainment, 2009.
Juno. Directed by Jason Reitman. Mandate Pictures / Mr. Mudd, 2007.
Lady Bird. Directed by Greta Gerwig. IAC Films / Scott Rudin Productions / Management 360, 2017.
Moxie. Directed by Amy Poehler. Paper Kite Productions, 2021.
Napoleon Dynamite. Directed by Jared Hess. Fox Searchlight Pictures / Paramount Pictures / MTV Films, 2004.
Never Been Kissed. Directed by Raja Gosnell. Fox 2000 Pictures / Flower Films, 1999.
Real Genius. Directed by Martha Coolidge. Delphi III Productions, 1985.
Revenge of the Nerds. Directed by Jeff Kanew. Interscope Communications, 1984.
Say Anything… Directed by Cameron Crowe. Gracie Films, 1989.
Saturday Night Live. Created by Lorne Michaels. NBC, 1975–ongoing.
She's All That. Directed by Robert Iscove. Tapestry Films / FilmColony, 1999.
Sierra Burgess is a Loser. Directed by Ian Samuels. Black Label Media, 2018.
Spacecamp. Directed by Harry Winer. ABC Motion Pictures, 1986.
Square Pegs. Created by Anne Beatts. Embassy Television, 1982–1983.
The Big Bang Theory. Created by Chuck Lorre and Bill Prady. Chuck Lorre Produtions / Warner Bros. Television, 2007–2019.
The Breakfast Club. Directed by John Hughes. A&M Films / Channel Productions, 1985.
The Miseducation of Cameron Post. Directed by Desiree Akhavan. Beachside / Parkville Pictures, 2018.
Triumph of the Nerds. Directed by Paul Sen. Channel 4 / PBS, 1996.
Yellowjackets. Created by Ashley Lyle and Bart Nickerson. Entertainment One / Beer Christmas, Ltd, Lockjaw / Showtime Networks, 2021–ongoing.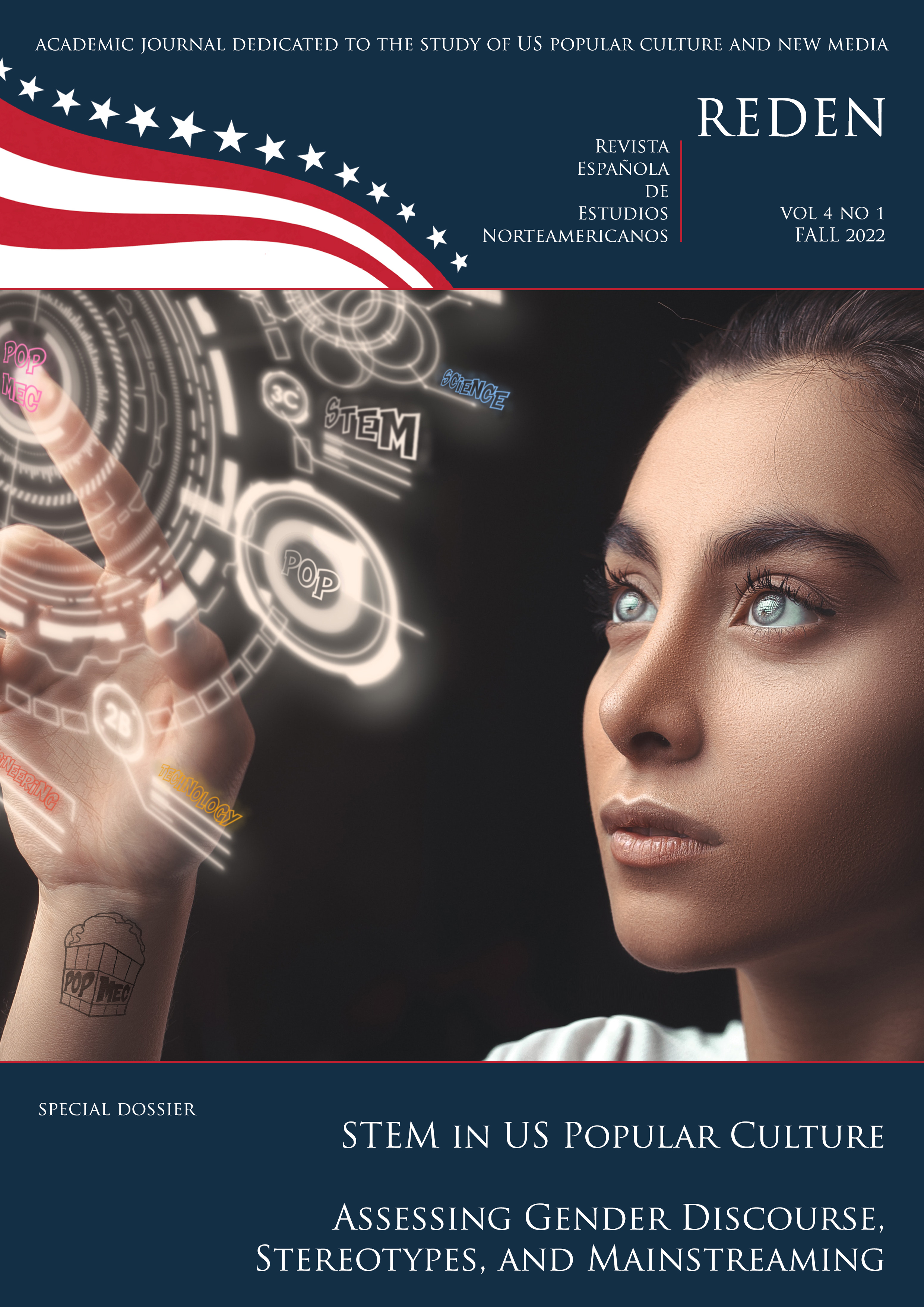 Downloads
How to Cite
Regueira Martín, A. S. (2022). Good Morning, Winner: Subverting Girl Nerd Stereotypes in Booksmart (2019). REDEN. Revista Española De Estudios Norteamericanos, 4(1), 3–18. https://doi.org/10.37536/reden.2022.4.1838
License
Copyright (c) 2022 Andrea Sofía Regueira Martín
This work is licensed under a Creative Commons Attribution 4.0 International License.