Vampire and Monster Narratives: An Interview with Sorcha Ní Fhlainn
Abstract
Sorcha Ní Fhlainn is a senior lecturer in film studies and American studies at Manchester Metropolitan University. She specializes in gothic studies, horror cinema, popular culture, and American studies indeed. Her work is focused in particular on vampire and monster narratives. She has published a long list of essays and several books, among which the collections Our Monster Skin: Blurring the Boundaries Between Monsters and Humanity(2010), The Worlds of Back to the Future: Critical Essays on the Films (2010), Clive Barker: Dark Imaginer (2017), and her monograph Postmodern Vampires in Film, Fiction and Popular Culture (2019).
References
WORKS CITED
Brite, Poppy Z. Lost Souls. Delacorte Press, 1992.
King, Stephen. Doctor Sleep. Scribner, 2013.
Matheson, Richard. I Am Legend. Gold Medal Books, 1954.
Mitchell, David. Slade House. Sceptre, 2015.
Shelley, Mary. Frankenstein; or, The Modern Prometheus. Lackington, Hughes, Harding, Mavor & Jones, 1818.
Stoker, Bram. Dracula. Archibald Constable and Company, 1897.
Films and TV series
Daybreakers. Dir. Michael and Peter Spierig. Lionsgate, 2009.
Fright Night. Dir. Tom Holland. Vistar Films, 1985.
The Hunger. Dir. Tony Scott. Metro-Goldwyn-Mayer, 1983.
Interview with the Vampire. Dir. Neil Jordan. The Geffen Film Company, 1994.
The Lost Boys. Dir. Joel Schumacher. Richard Donner Production, 1987.
True Blood. Produced and created by Alan Ball. HBO, 2008–2014.
Twilight. Dir. Catherine Hardwicke. Summit Entertainment, 2008.
Warm Bodies. Dir. Jonathan Levine. Mandeville Films, 2013.
What We Do in the Shadows. Dir. Jemaine Clement. Madman Entertainment, 2014.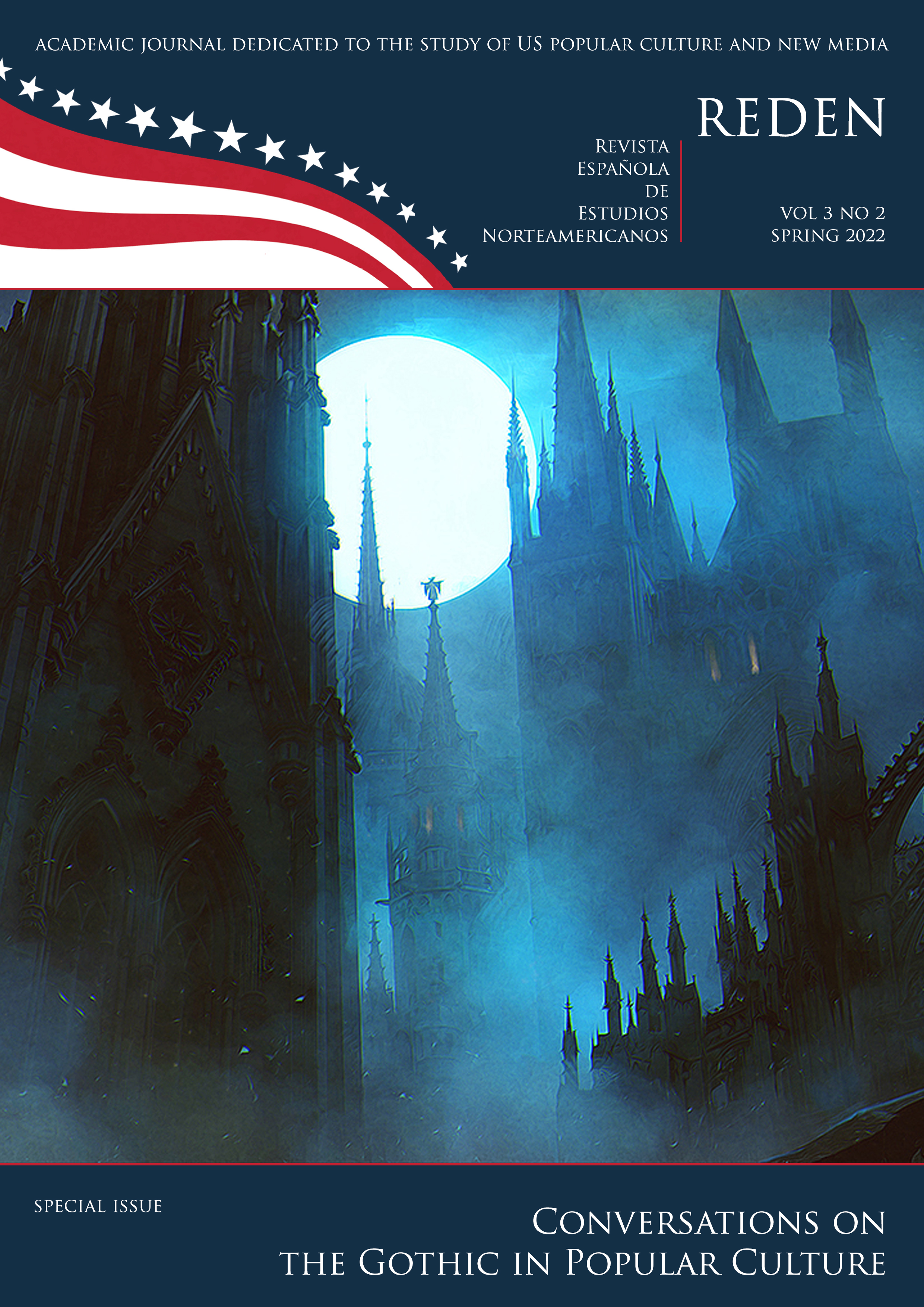 Downloads
How to Cite
Marini, A. M., & Ní Fhlainn , S. (2022). Vampire and Monster Narratives: An Interview with Sorcha Ní Fhlainn. REDEN. Revista Española De Estudios Norteamericanos, 3(2), 145-158. https://doi.org/10.37536/reden.2022.3.1825
License
Copyright (c) 2022 Anna Marta Marini
This work is licensed under a Creative Commons Attribution 4.0 International License.