Zombies and the American Gothic: An Interview with Kyle William Bishop
Keywords:
zombie, horror, American Gothic, film, interview
Abstract
Kyle William Bishop is Professor of English at Southern Utah University, where he has been teaching since 2000. He teaches courses about American literature and culture, fantasy and horror literature, film studies, and English composition. Kyle Bishop is the author of American Zombie Gothic: The Rise and Fall and Rise of the Walking Dead in Popular Culture (McFarland, 2010) and his second volume on the zombie is called How Zombies Conquered Popular Culture: The Multifarious Walking Dead in the 21st Century (McFarland, 2015). He is also the co-editor of the book The Written Dead: Essays on the Literary Zombie (McFarland, 2017).
References
WORKS CITED
Carey, M. R. The Girl with All the Gifts. Orbit, 2014.
Cohen, Jeffrey Jerome. "Monster Culture (Seven Theses)." Monster Theory: Reading Culture, edited by Jeffrey Jerome Cohen, U of Minnesota P, 1996, pp. 3–25.
Hogle, Jerrold E. "Introduction: The Gothic in Western Culture." The Cambridge Companion to Gothic Fiction, edited by Jerrold E. Hogle, Cambridge UP, 2002, pp. 1–20.
Lauro, Sarah Juliet. The Transatlantic Zombie: Slavery, Rebellion, and Living Death. Rutgers UP, 2015.
Rhys, Jean. Wide Sargasso Sea. Norton, 1966.
Whitehead, Colson. Zone One. Doubleday, 2011.
Films and TV series
Alone. Dir. Matt Naylor. Lionsgate, 2020.
Anna and the Apocalypse. Dir. John McPhail. Vertigo, 2018.
Cargo. Dir. Ben Howling and Yoland Ramke. Netflix, 2018.
Dawn of the Dead. Dir. George A. Romero. United Film, 1978.
The Girl with All the Gifts. Dir. Colm McCarthy. Warner Bros., 2016.
I Am a Hero. Dir. Shinsuke Satō. Solar Entertainment, 2019.
I Am Legend. Dir. Francis Lawrence. Warner Bros, 2007.
In the Flesh. Created by Dominic Mitchell. BBC Three, 2013–2014.
iZombie. Developed by Rob Thomas and Diane Ruggiero-Wright. The CW, 2015–2019.
Maggie. Dir. Henry Hobson. Lionsgate, 2015.
Minecraft. Developed by Mojang Studios. Mojang Studios, 2011.
Night of the Living Dead. Dir. George A. Romero. Continental, 1968.
Santa Clarita Diet. Created by Victor Fresco. Netflix, 2017–2019.
The Walking Dead. Developed by Frank Darabont. AMC, 2010–.
Warm Bodies. Dir. by Jonathan Levine. Summit Entertainment, 2013.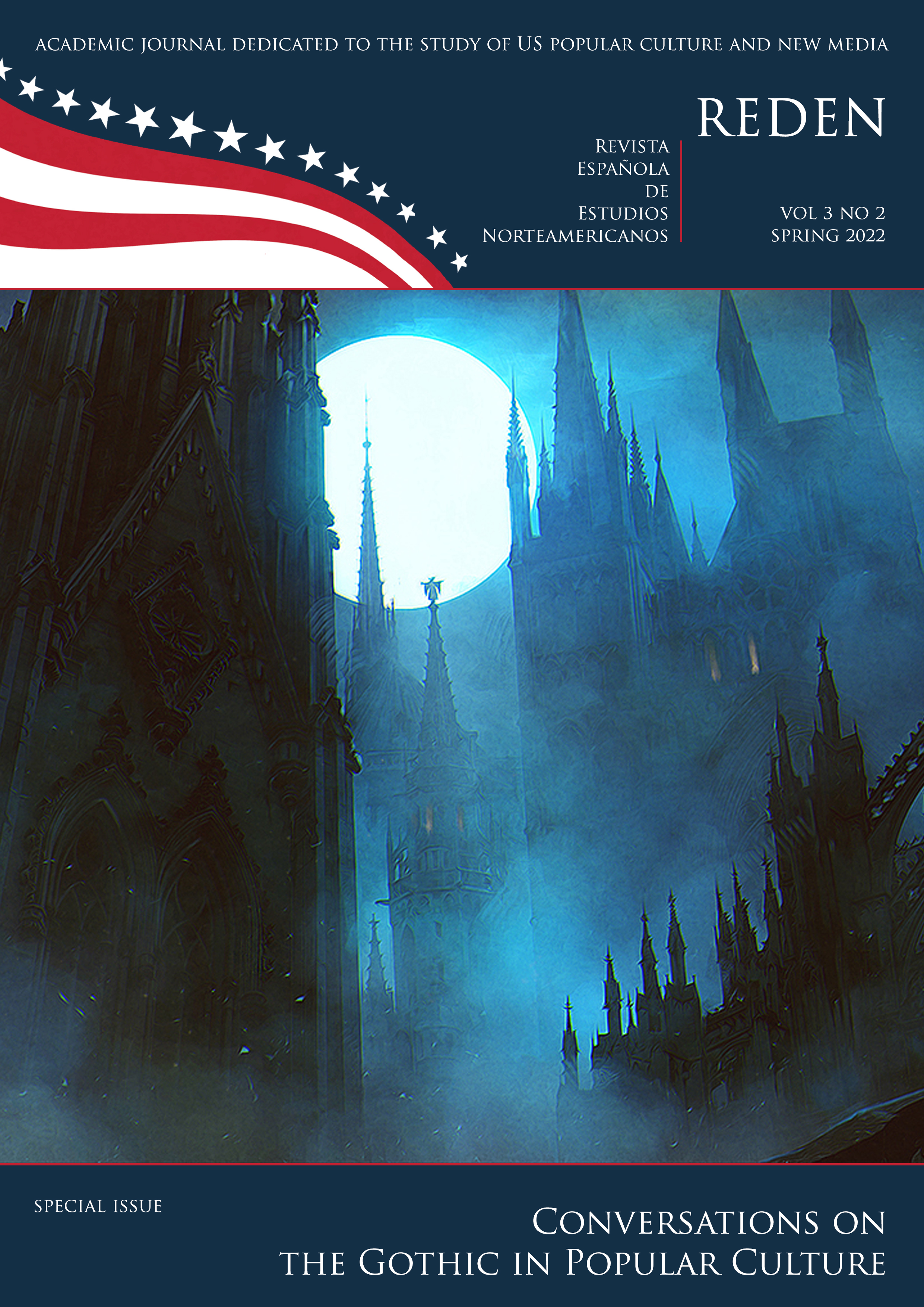 Downloads
How to Cite
Fuchs, M., & Bishop, K. W. . (2022). Zombies and the American Gothic: An Interview with Kyle William Bishop. REDEN. Revista Española De Estudios Norteamericanos, 3(2), 129-144. https://doi.org/10.37536/reden.2022.3.1824
License
Copyright (c) 2022 Michael Fuchs
This work is licensed under a Creative Commons Attribution 4.0 International License.