The Gothic and National Domesticity: An Interview with Kevin Corstorphine
Abstract
Kevin Corstorphine is a lecturer in American Literature at the University of Hull, and Programme Director in American Studies. His research interests lie in horror and Gothic fiction, both literary and popular, and he is particularly interested in representation of space and place, the environment, and haunted locations. He has published widely on authors including Bram Stoker, H.P. Lovecraft, Ambrose Bierce, Shirley Jackson, Stephen King, and Clive Barker. He was the co-editor for The Palgrave Handbook to Horror Literature, published in 2018. He is currently working on several research projects including US imperialism, haunted graveyards, and the use of dungeon spaces in gaming.
References
WORKS CITED
Cave, Nick. And the Ass Saw the Angel. Harper Collins, 1989.
Conrad, Joseph. Heart of Darkness. Blackwood's Magazine, 1899.
Corstorphine, Kevin. "Introduction." The Palgrave Handbook to Horror Literature, edited by Kevin Cor-storphine and Laura R. Kremmel. Palgrave Macmillan, 2018, pp. 1-17.
Danielewski, Mark Z., House of Leaves. Pantheon, 2000.
Ellison, Ralph. Invisible Man. Random House, 1952.
Fiedler, Leslie. Love and Death in the American Novel. Stein and Day, 1960.
Fowles, John. The French Lieutenant's Woman. Jonathan Cape, 1969.
Goddu, Teresa A. Gothic America: Narrative, History, and Nation. Columbia U P, 1997.
Hawthorne, Nathaniel. "The Minister's Black Veil." The Token and Atlantic Souvenir, 1836.
—. "Young Goodman Brown." The New England Magazine, 1835.
—. The House of the Seven Gables. Ticknor & Fields, 1851.
Kaplan, Amy. "Manifest Domesticity." The Futures of American Studies, edited by Donald E. Pease and Robyn Wiegman. Duke U P, 2002, pp. 111-134.
Höglund, Johan. "Imperial Horror and Terrorism." The Palgrave Handbook to Horror Literature, edited by Kevin Corstorphine and Laura R. Kremmel. Palgrave Macmillan, 2018, pp. 327-337.
King, Stephen. Danse Macabre. Warner Books, 1993.
—. Pet Sematary. Doubleday, 1983.
Klinger, Leslie S. The New Annotated H.P. Lovecraft: Beyond Arkham. Liveright, 2019.
LaValle, Victor. The Ballad of Black Tom. Tor, 2016.
Lovecraft, H.P. "The Horror at Red Hook." H.P. Lovecraft: The Complete Fiction, edited by S.T. Joshi. Barnes & Noble, 2008, pp. 314-331.
Marsh, Richard. The Beetle. Skeffington & Son, 1897.
—. The Joss, A Reversion. F.V. White & Co., 1901.
Melville, Herman. "Bartleby, The Scrivener." Putnam's Magazine, 1853.
Morell, David. First Blood. Rowman & Littlefield, 1982.
Morrison, Toni. Beloved. Alfred A. Knopf, 1987.
McCarthy, Cormac. Blood Meridian. Random House, 1985.
Oyeyemi, Helen. White is for Witching. Nan A. Talese, 2009.
Perry, Sarah. The Essex Serpent. Serpent's Tail, 2016.
Ruff, Matt. Lovecraft Country. Harper Collins, 2016.
Williams, Tennessee. A Streetcar Named Desire. New American Library, 1947.
Films and TV series
American Sniper. Directed by Clint Eastwood. Warner Bros, 2015.
Birth of a Nation. Directed by D.W. Griffith. Epoch Producing Co., 1915.
The Amityville Horror. Directed by Stuart Rosenberg. Metro-Goldwyn-Mayer, 1977.
A Clockwork Orange. Directed by Stanley Kubrick. Warner Bros, 1971.
Don't Breathe. Directed by Fede Álvarez. Sony Pictures, 2016.
Funny Games. Directed by Michael Haneke. Concorde-Castle, 1997.
House. Directed by Steven Miner. New World Pictures, 1986.
Rambo. Directed by Ted Kotcheff. Orion Pictures, 1972.
Rear Window. Directed by Alfred Hitchcock. Paramount, 1954.
Run. Directed by Aneesh Chaganty. Lionsgate, 2020.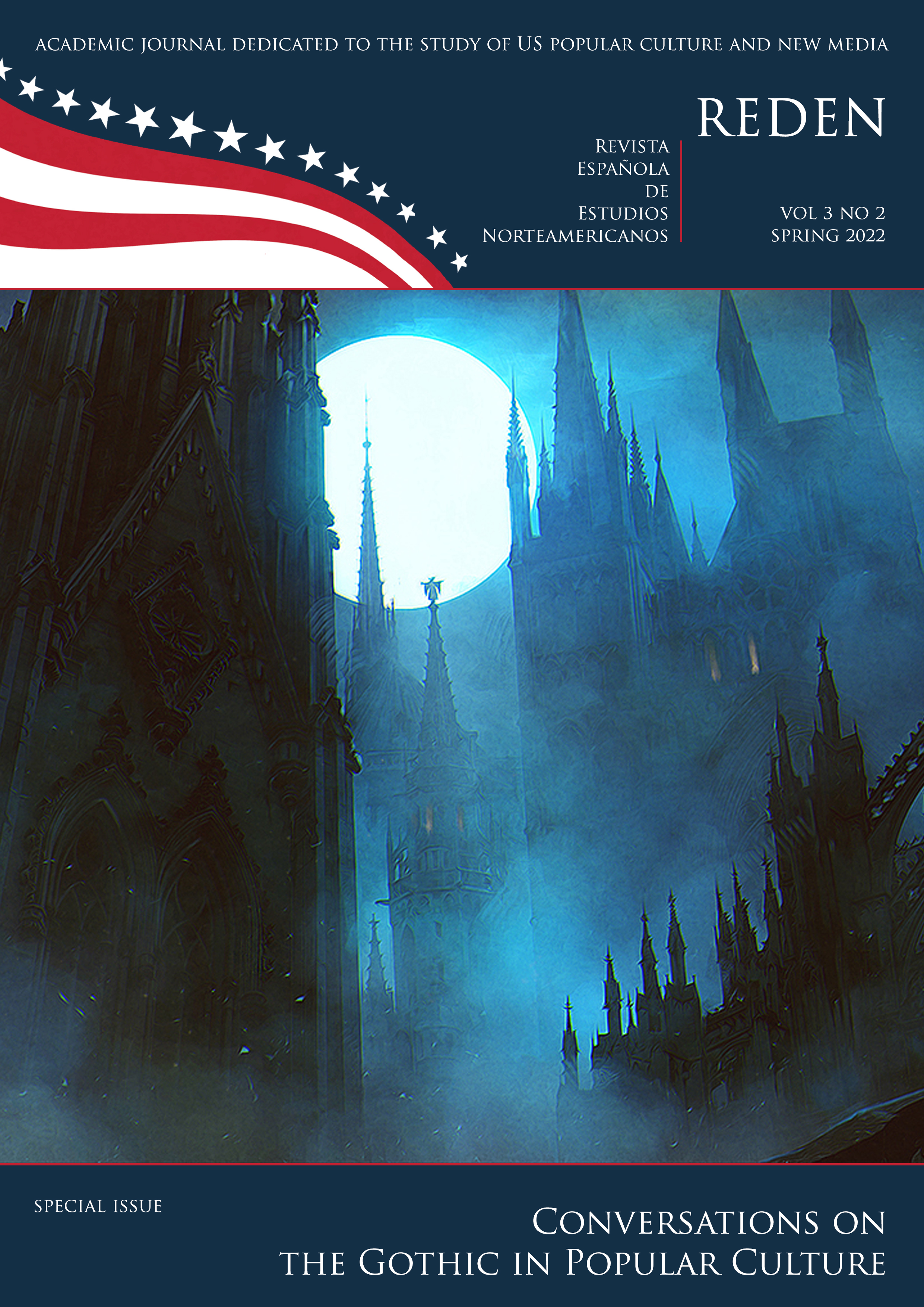 Downloads
How to Cite
Martinicorena, S., & Corstorphine , K. . (2022). The Gothic and National Domesticity: An Interview with Kevin Corstorphine. REDEN. Revista Española De Estudios Norteamericanos, 3(2), 57-68. https://doi.org/10.37536/reden.2022.3.1816
License
Copyright (c) 2022 Sofía Martinicorena
This work is licensed under a Creative Commons Attribution 4.0 International License.