Digital Gothic: An Interview with Xavier Aldana Reyes
Keywords:
Gothic, popular culture, horror, digitality, found footage, interview
Abstract
Xavier Aldana Reyes is Reader/Associate Professor in English Literature and Film at Manchester Metropolitan University and a founder member of the Manchester Centre for Gothic Studies. He is author of Gothic Cinema (2020), Spanish Gothic (2017), Horror Film and Affect (2016) and Body Gothic (2014), and editor of Twenty-First-Century Gothic: An Edinburgh Companion (with Maisha Wester, 2019), Horror: A Literary History (2016) and Digital Horror (with Linnie Blake, 2015). Xavier is chief editor of the Horror Studies book series at the University of Wales Press, and has edited anthologies of Gothic and horror fiction for the British Library. One of Xavier's research interests is the optical dynamics of found footage horror films. On this topic, he has published an article on narrative framing for Gothic Studies, and chapters on affective immersion in the film [REC] (2007) and viewer involvement and guilt in The Last Horror Movie (2003). More recently, he wrote a chapter on 'Online Gothic' that considers social media found footage horror for the collection The Edinburgh Companion to Globalgothic (2022).
References
WORKS CITED
Aldana Reyes, Xavier. Body Gothic: Corporeal Transgression in Contemporary Literature and Horror Film. University of Wales Press, 2014.
—. Horror Film and Affect: Towards a Corporeal Model of Viewership. Routledge, 2016.
—, editor. Horror: A Literary History. British Library Publishing, 2016.
—. "The Mediation of Death in Fictional Snuff: Reflexivity, Viewer Interpellation, and Ethical Impli-cation." Snuff: Real Death and Screen Media, edited by Neil Jackson, Shaun Kimber, Johnny Walker and Thomas Joseph Watson, Bloomsbury, pp. 211–23.
—. Spanish Gothic: National Identity, Collaboration and Cultural Adaptation. Palgrave Macmillan, 2017.
—. "Jaume Balagueró and Paco Plaza's [REC] (2007)—The Affective Approach to Horror." Horror: A Companion, edited by Simon Bacon, Peter Lang, 2019, pp. 27–34.
—. Gothic Cinema. Routledge, 2020.
—. "Online Gothic." The Edinburgh Companion to Globalgothic, edited by Rebecca Duncan and Justin D. Edwards, Edinburgh UP, 2022, forthcoming.
Bazin, André. What Is Cinema?, vol. 1, University of California Press, 2005 [1967].
Benson-Allott, Caetlin. Killer Tapes and Shattered Screens: Video Spectatorship from VHS to File Sharing. University of California Press, 2013.
Blake, Linnie, and Xavier Aldana Reyes, editors. Digital Horror: Haunted Technologies, Network Panic and the Found Footage Phenomenon. I. B. Tauris, 2016.
Curtis, Barry. Dark Places: The Haunted House in Film. Reaktion Books, 2008.
Daniel, Adam. Affective Intensities and Evolving Horror Forms: From Found Footage to Virtual Reality. Edinburgh UP, 2020.
Gibson, William. Neuromancer. Ace, 1984.
Hallam, Lindsey. "Digital Witness: Found Footage and Desktop Horror as Post-Cinematic Experi-ence." New Blood: Critical Approaches to Contemporary Horror, edited by Eddie Falvey, Joe Hick-inbottom and Jonathan Wroot, University of Wales Press, 2020, pp. 183–99.
Hart, Adam Charles. Monstrous Forms: Moving Image Horror across Media. Oxford UP, 2020.
Jenkins, Henry. "The Work of Theory in the Age of Digital Transformation." A Companion to Film Theory, edited by Toby Miller and Robert Stam, Blackwell Publishing, 1999, pp. 234–61.
Jones, Steven. Torture Porn: Popular Horror after Saw. Palgrave Macmillan, 2013.
Larsen, Miranda Ruth. "Desktop Horror and Captive Cinema." Henry Jenkins: Confessions of an Aca-Fan, http://henryjenkins.org/blog/2019/2/10/cult-conversations-desktop-horror-and-captive-cinema-by-miranda-ruth-larsen. Accessed 6 September 2021.
Manovich, Lev. The Language of New Media. MIT Press, 2001.
McIntyre, Lee. Post-Truth. MIT Press, 2018.
McLuhan, Marshall. Understanding Media: The Extension of Man. Routledge, 2001 [1964].
Meehan, Paul. The Haunted House on Film: An Historical Analysis. McFarland, 2019.
Olivier, Marc. "Glitch Gothic." Cinematic Ghosts: Haunting and Spectrality from Silent Cinema to the Digital Era, edited by Murray Leeder, Bloomsbury, 2015, pp. 253–70.
Sconce, Jeffrey. Haunted Media: Electronic Presence from Telegraphy to Television. Duke UP, 2000.
Wester, Maisha, and Xavier Aldana Reyes, editors. Twenty-First-Century Gothic: An Edinburgh Com-panion. Edinburgh UP, 2019.
Wetmore, Kevin J. Post-9/11 Horror in American Cinema. Continuum, 2012.
Winterson, Jeanette. Frankissstein: A Love Story. Penguin, 2019.
Zimmer, Catherine. Surveillance Cinema. NYU Press, 2015.
Zuboff, Shoshana. The Age of Surveillance Capitalism: The Fight for a Human Future at the New Frontier of Power. Profile Books, 2019.
Films and TV Series
:57. Directed by Sofia Gillstrom and Henrik Leichsenring, Sid Lee Collective, 2014.
The Blair Witch Project. Directed by Daniel Myrick and Eduardo Sánchez, Artisan Entertainment, 1999.
Cloverfield. Directed by Matt Reeves, Paramount Pictures, 2008.
Crime Scene: The Vanishing at the Cecil Hotel. Directed by Joe Berlinger, Netflix, 2021.
The Den, aka Hacked. Directed by Zachary Donohue, IFC Midnight, 2013.
Diary of the Dead. Directed by George A. Romero, Third Rail Releasing, 2007.
Don't F**k With Cats: Hunting an Internet Killer. Directed by Mark Lewis, Netflix, 2019.
Ex Machina. Directed by Alex Garland, A24, Universal Pictures, 2014.
FeardotCom. Directed by William Malone, Warner Bros. Pictures, Columbia TriStar Distributors In-ternational, 2002.
Friend Request. Directed by Simon Verhoeven, Warner Bros. Pictures, 2016.
The Great Hack. Directed by Karim Amer and Jehane Noujaim, Netflix, 2019.
Host. Directed by Rob Savage, Vertigo Releasing, 2020.
Hostel. Directed by Eli Roth, Lions Gate Films, Screen Gems, 2005.
House of Usher. Directed by Roger Corman, American International Pictures, 1960.
Jumanji: Welcome to the Jungle. Directed by Jake Kasdan, Sony Pictures Releasing, 2017.
Kairo (Pulse). Directed by Kiyoshi Kurosawa. Toho, 2001.
Keep Watching. Directed by Sean Carter. Sony Pictures Releasing, 2017.
The Last Horror Movie. Directed by Julian Richards. Tartan Films, 2003.
Megan is Missing. Michael Goi, Anchor Bay Films, 2011.
"Nosevide." Directed by Joe Wright, Black Mirror, Netflix, 2016.
Open Windows. Directed by Nacho Vigalondo, Aurum Producciones, Cinedigm, 2014.
Peripheral. Directed by Paul Hyett, Blue Finch, 2018.
Ratter. Directed by Brandon Kramer, Destination Films, Vertical Entertainment, 2015.
[REC]. Directed by Jaume Balagueró and Paco Plaza, Filmax, 2007.
Ringu (Ring). Directed by Hideo Nakata, Toho, 1998.
Saw. Directed by James Wan, Lions Gate Films, 2004.
Searching. Directed by Aneesh Chaganty, Sony Pictures Releasing, 2018.
Sequence Break. Directed by Graham Skipper, Shudder, 2017.
The Social Dilemma. Directed by Jeff Orlowski, Netflix, 2020.
Unfriended. Directed by Leo Gabriadze, Universal Pictures, 2014.
Unfriended: Dark Web. Directed by Stephen Susco, OTL Releasing, BH Tilt, 2018.
Untraceable. Directed by Gregory Hoblit, Universal Pictures, 2008.
Video Games
Amnesia: The Dark Descent. PC version, Frictional Games, 2010.
Outlast. PC version, Red Barrels, 2013.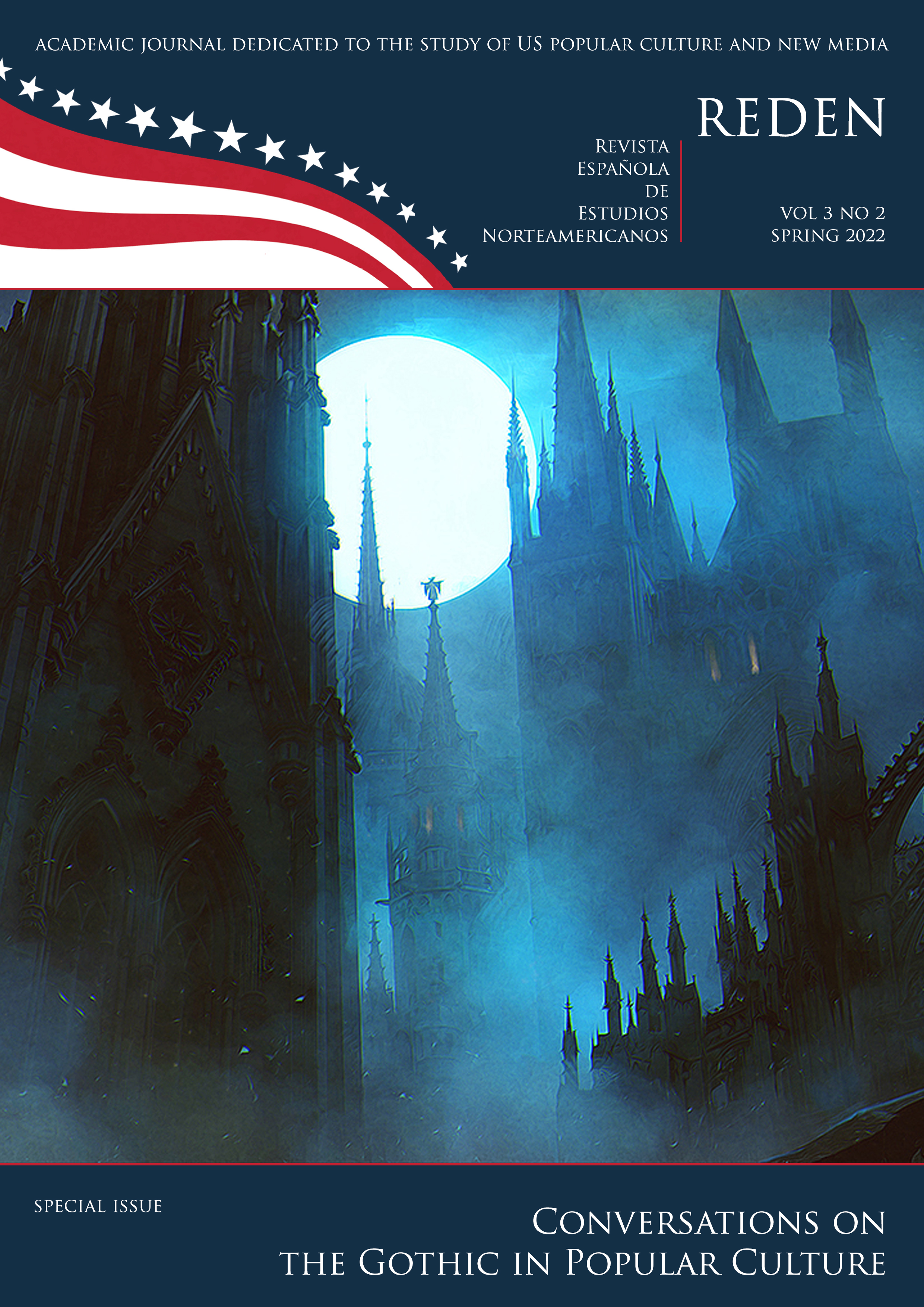 Downloads
How to Cite
Álvarez Trigo, L., & Aldana Reyes , X. . (2022). Digital Gothic: An Interview with Xavier Aldana Reyes. REDEN. Revista Española De Estudios Norteamericanos, 3(2), 16-30. https://doi.org/10.37536/reden.2022.3.1812
License
Copyright (c) 2022 Laura Álvarez Trigo
This work is licensed under a Creative Commons Attribution 4.0 International License.