The Construction of the Gothic Heroine in George A. Romero's Night of the Living Dead (1968)
Keywords:
American Gothic, Romero, female heroine, horror, Female Gothic, Patriarchy, Domesticity, Horror Cinema
Abstract
George A. Romero's Night of the Living Dead (1968) is considered a landmark film in the horror genre as well as being an example of a twentieth century Gothic text. This paper explores the film's construction of the Gothic heroine. Whilst Night of the Living Dead is the product of predominantly male creators, most notably Romero who co-wrote and directed the film, it utilises several conventions of the female Gothic genre. Barbara, the film's female protagonist, initially appears as a potential twentieth century equivalent to the female Gothic heroines of the past, but as the film goes on, she becomes more and more marginalised by the patriarchal confines of her own society. The film suggests that if Barbara were allowed more freedom to make her own decisions with regard to the terrifying situation in which she is placed, the likelihood of her survival would be increased drastically. However, the overbearing male characters refuse to relinquish their patriarchal urges and this leads to Barbara's inability to realise her own salvation. The paper argues that Barbara is unable to vanquish the creatures that attack her because she does not have the support structure, both physically and psychologically, to do so. She is not only a victim of the ghouls that exist at the boundaries of society, but also of the patriarchal structures that claims to be able to protect her.
References
Armitt, Lucie. Twentieth Century Gothic. University of Wales Press, 2011.
Blackford, Holly. "Haunted Housekeeping: Fatal Attractions of Servant and Mistress in Twentieth Century Female Gothic Literature." Literature Interpretation Theory, vol. 16, Issue 2, 2005, pp. 233–61.
Botting, Fred. Gothic. Routledge, 1996.
Botting, Fred. The Limits of Horror: Technology, Bodies, Gothic. Manchester University Press, 2008.
Clover, Carol J. Men, Women and Chainsaws: Gender in the Modern Horror Film. Princeton University Press, 2015.
Davison, Carol Margaret. Gothic Literature: 1764–1824. University of Wales Press, 2009.
Ellis, Kate Ferguson. The Contested Castle: Gothic Novels and the Subversion of Domestic Ideology. Uni-versity of Illinois Press, 1989.
Harper, Stephen. "'They're Us': Representations of Women in George Romero's 'Living Dead' Se-ries." Intensities: The Journal of Cult Media, no. 3, 2003, Online. https://intensitiescultmedia.files.wordpress.com/2012/12/harper-theyre-us.pdf. Accessed 23 August 2021.
Heiland, Donna. Gothic and Gender: An Introduction. Blackwell, 2004.
Kilgour, Maggie. The Rise of the Gothic Novel. Routledge, 1995.
Kahane, Clair. "The Gothic Mirror." The (M)other Tongue: Essays in Feminist Psychoanalytic Interpreta-tion, edited by Shirley N. Garner, Clair Kahane, and Madelon Sprengnether, Cornell Univer-sity Press, 1985, pp. 334–52.
Moers, Ellen. "Female Gothic." The Endurance of Frankenstein: Essays on Mary Shelly's Novel, edited by George Levine and U.C. Knoepflmacher, University of California Press, 1982, pp. 77–88.
Mulvey-Roberts, Marie. "The Female Gothic Body." Women and the Gothic: An Edinburgh Companion, edited by Avril Horner and Sue Zlosnik, Edinburgh University Press, 2017, pp. 106–19.
Murphy, Bernice M. The Suburban Gothic in American Popular Culture. Palgrave Macmillan, 2009.
Romero, George A., director. Night of the Living Dead. Continental Distributing, 1968.
Stoddart, Helen. "Hero-Villain." The Handbook to Gothic Literature, edited by Marie Mulvey-Roberts, Macmillan Press, 1998, pp. 111–15.
Tóth, Réka. "The Plight of the Gothic Heroine: Female Development and Relationships in Eight-eenth Century Gothic Fiction." Eger Journal of English Studies, vol. 10, 2010, pp. 21–37, Online. http://anglisztika.ektf.hu/new/english/content/tudomany/ejes/ejesdokumentumok/2010/Toth_R_2010.pdf. Accessed 21 November 2021.
Towlson, Jon. Subversive Horror Cinema: Countercultural Messages of Films from Frankenstein to Pre-sent. McFarland, 2014.
Towlson, Jon. "Why Night of the Living Dead was a big-bang moment for horror movies." BFI, 2018, Online. https://www.bfi.org.uk/features/night-living-dead-george-romero. Accessed 19 Janu-ary 2022.
Tudor, Andrew. Monsters and Mad Scientists. Wiley, 1989.
Wallace, Diana, and Andrew Smith. "Introduction: Defining the Female Gothic." The Female Gothic: New Direction, edited by Diana Wallace and Andrew Smith, Palgrave Macmillan, 2009, pp. 1–12.
Waller, Gregory A. The Living and the Undead: Slaying Vampires, Exterminating Zombies. University of Illinois Press, 1986.
Williams, Anne. Art of Darkness: A Poetics of Gothic. University of Chicago Press, 1995.
Williams, Tony. The Cinema of George A. Romero: Knight of the Living Dead. Columbia University Press, 2015.
Wisker, Gina. Contemporary Women's Gothic Fiction. Palgrave Macmillan, 2016.
Wood, Robin. Hollywood from Vietnam to Reagan…and Beyond. Columbia University Press, 2003.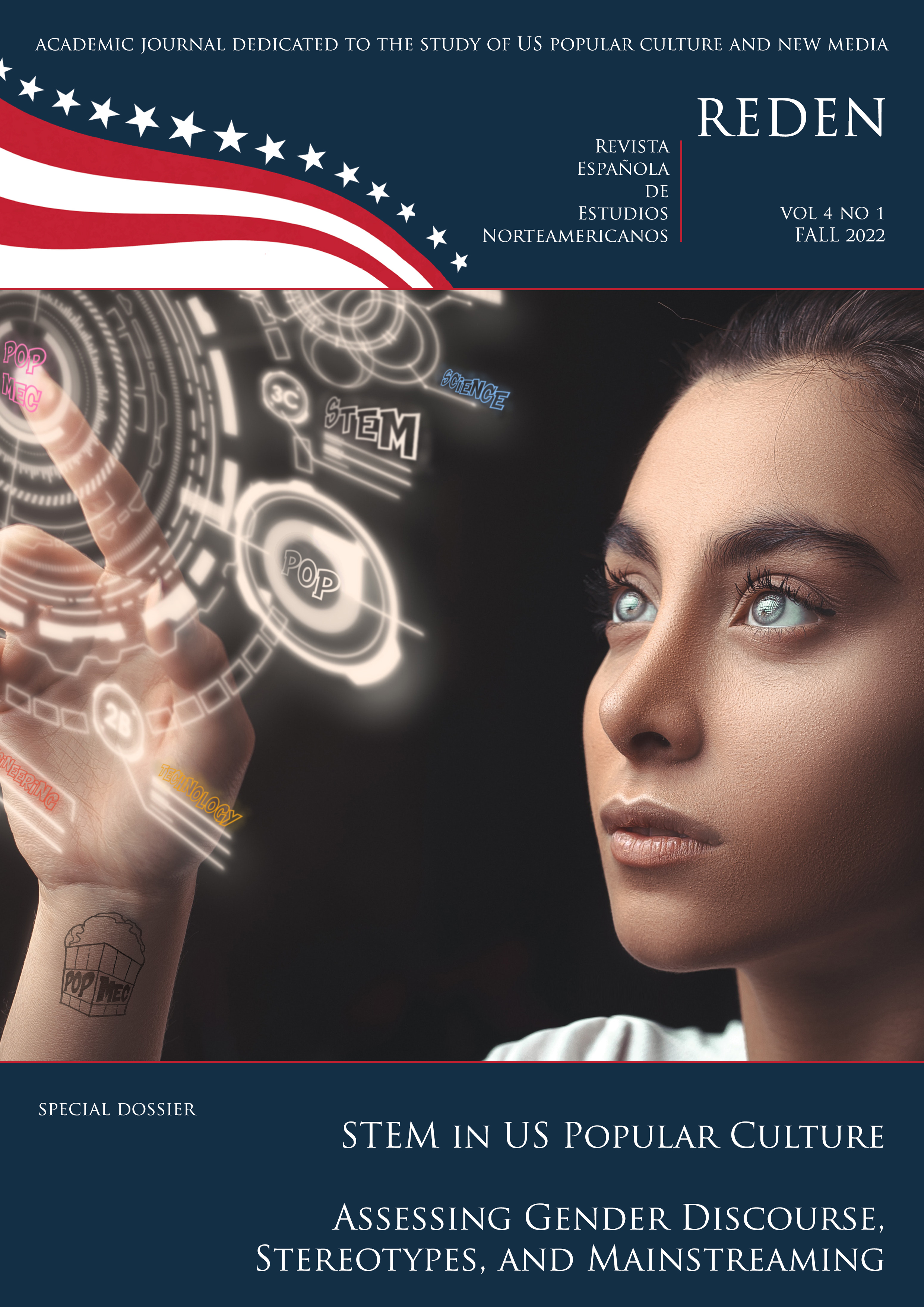 Downloads
How to Cite
Brown, B. (2022). The Construction of the Gothic Heroine in George A. Romero's Night of the Living Dead (1968). REDEN. Revista Española De Estudios Norteamericanos, 4(1), 77–90. https://doi.org/10.37536/reden.2022.4.1422
License
Copyright (c) 2022 Benjamin Brown
This work is licensed under a Creative Commons Attribution 4.0 International License.