Midwives in Byzantium: An Overview
Palabras clave:
Nodriza, nacimiento, lactancia, estudios de género, antropología
Resumen
El presente artículo se propone trazar un cuadro general sobre el significado de la figura de la nodriza en Bizancio, en base a las fuentes literarias. La nodriza en Bizancio resulta ser una figura enigmática y difícil de estudiar, principalmente debido a las escasas referencias que se encuentran en las fuentes, pero también a la vaga definición de sus funciones en el mundo antiguo. Los principales campos de acción de las nodrizas bizantinas eran tres: médico, religioso y de cuidado. Tratándose de un primer acercamiento al estudio de la nodriza bizantina en sus múltiples aspectos, este artículo se concluye proponiendo posibles puntos de vista investigativos que posibiliten una comprensión más clara y completa de dicha figura.
Descargas
Los datos de descargas todavía no están disponibles.
Citas
Arranz Miguel, "Les sacrements de l'ancien Euchologe constantinopolitain" (3), OCP, 49 (1983), 284-302.
Barnawi Najla, Richter Solina, and Habib Farida, "Midwifery and midwives: a historical analysis", Journal of Research in Nursing and Midwifery, 2, no. 8 (2013), 114-121.
Baun Jane, "Coming of Age in Byzantium: Agency and Authority in Rites of Passage from Infancy to Adulthood", in Authority in Byzantium, ed. Pamela Armstrong (Farnham: Ashgate, 2013), 113-135.
Beaucamp Joëlle, "L'allaitement: mère ou nourrice?", JÖB 32 (1982), 549-558.
Beaucamp Joëlle, Le statut de la femme à Byzance (4-7 siècle), I. Le droit impèrial (Paris: De Boccard, 1990).
Bettini Maurizio, Affari di famiglia. La parentela nella letteratura e nella cultura antica (Bologna: il Mulino, 2009).
Bettini Maurizio, Nascere. Storie di donne, donnole, madri ed eroi (Torino: Einaudi, 2018).
Björklund Heta, "A note on the aspects of the Greek child-killing demon", Classica et Mediaevalia, 66 (2015), 341-363.
Bonfante Larissa, "Iconografia delle madri: Etruria e Italia antica", in Le donne in Etruria, ed. Antonia Rallo (Roma: L'Erma di Bretschneider, 1989), 85-106.
Bonfante Larissa, "Nursing Mothers in Classical Art", in Naked Truths. Women, Sexuality and Gender in Classical Art and Archaeology, eds. Ann Olga Koloski-Ostrow, Claire Lyons, Natalie Boymel Kampen (London-New York: Routledge, 1997), 174-196).
Capomacchia Anna Maria Gloria, "Nutrice di eroi: ruolo e valenza di un personaggio "minore" nella tragedia greca", Studi e materiali di storia delle religioni, 18 (1994), 11-24.
Clédat Jean, Bénazeth Dominique, Rutschowscaya Marie-Hélène, Bouvarel-Boud'hors Anne, and Coquin René-Georges, Le monastère et la nécropole de Baouit (Le Caire: Institut français d'archéologie orientale, 1999).
Concina Ennio, La città bizantina (Roma: Laterza, 2003).
Congordeau Marie-Hélène, "Un procès d'avortement à Costantinople au 14e siècle", REB, 40 (1982), 103-115.
Congourdeau Marie-Hélène, "Les abortifs dans les sources byzantines", in Le corps à l'épreuve, Poisons, remédes et chirurgie: aspects des pratiques médicales dans l'Antiquité et le Moyen Age, eds. Franck Collard, and Évelyne Samama (Langres: D. Guéniot, 2002), 57-70.
Franchi Roberta, Dalla Grande Madre alla madre. La maternità nel mondo classico e cristiano: miti e modelli, I. "La Grecia" (Alessandria: Edizioni dell'Orso, 2018).
Garzya Antonio, "Testi letterari d'uso strumentale a Bisanzio", Vichiana, 10 (1981), 118-143.
Garzya Antonio, De Lucia Roberto, Guardasole Alessia, Ieraci Bio Anna Maria, Lamagna Maria, and Romano Roberto, Medici bizantini. Oribasio di Pergamo, Aezio d'Amida, Alessandro di Tralle, Paolo d'Egina, Leone medico (Torino: UTET, 2006).
Gautier Paul, "Le typikon du Christ Sauveur Pantocrator", REB, 32 (1974), 1-145.
Getcha Job, The Euchologion Unveiled (Yonkers, NY: St. Vladimirs Seminary Press, 2018).
Giannarelli Elena, La vita di s. Macrina / s. Gregorio di Nissa (Milano: Edizioni paoline, 1988).
Giladi Avner, Muslim Midwives. The Craft of Birthing in the Premodern Middle East (Cambridge: Cambridge University Press, 2015).
Gourevitch Danielle, "Préparation intellectuelle et déontologie de la sage-femme: du traité Des maladies des femmes de Soranos d'Éphèse aux Infortunes de Dinah", in From Athens to Jerusalem. Medicine in hellenized jewish lore and in early Christian literature, eds. Samuel Kottek, Manfred Horstmanshoff, Gerhard Baader, and Gary Ferngren (Rotterdam: Erasmus, 2000).
Green Monica, "Medical Practice and Health Care in Medieval Europe", Signs, 2 (1989), 434-473.
Greenfield Richard, "Later Byzantine Depictions and Conceptions of the Devil and the Demons", Etnofoor, Jaarg. 5, 1, no. 2 (1992), 61-80.
Horden Peregrine, "How Medicalised were Byzantine Hospitals?", Medicina & Storia, 2011, 213-235.
Laes Christian, "Infants between biological and social birth in antiquity: a phenomenon of the 'longue durée'", Zeitschrift für Alte Geschichte, 63, no.3 (2014), 364-383.
Lentano Mario, "Parentela", in Con i Romani. Un'antropologia della cultura antica, eds. Maurizio Bettini, and William Short (Bologna: il Mulino, 2014), 167-186.
Maher Vanessa, Il latte materno: i condizionamenti culturali di un comportamento, trad. Miki Salvatorelli (Torino: Rosenberg & Sellier, 1992).
Mencacci Francesca, "La balia cattiva: alcune osservazioni sul ruolo della nutrice nel mondo antico", in Vicende e figure femminili in Grecia e a Roma, ed. Renato Rafaelli (Ancona: Commissione per le pari opportunità fra uomo e donna della Regione Marche, 1995), 227-237.
Meyer Mati, "'Woman to Woman': Parturient-Midwife Imagery in Byzantine Art", RSBS, 6 (2004), 101-114.
Miller Timothy, "Byzantine Hospitals", DOP, 38 (1984), 53-63.
Nifosi Ada, Becoming a Woman and Mother in Greco-Roman Egypt. Women's Bodies, Society and Domestic Space (London-New York: Routledge, 2019).
Orlandi Lucia, "Baptême et baptistères dans l'Empire romain d'Orient. Aspects culturels et sociaux (IVe-VIIe siècles)", in IXes Rencontres annuelles internationales des des doctorants en études byzantines (2016), eds. Lorenzo Ciolfi, and Jeanne Devoge, 2017, 5-19.
Parker Holt N., "Women doctors in Greece, Rome, and the Byzantine empire", in Women physicians and healers: climbing a long hill, ed. Lilian R. Furst (Lexington: University Press of Kentucky, 1997), 131-150.
Patera Maria, Figures grecques de l'épouvante de l'antiquité au present (Leiden – Boston: Brill, 2015).
Pedrucci Giulia, L'allattamento nella Grecia di epoca arcaica e classica (Roma: Scienze e Lettere, 2013), 119-124.
Pedrucci Giulia, "Baliatico, αἰδώς e malocchio: capire l'allattamento nella Grecia di epoca arcaica e classica anche con l'aiuto delle fonti romane", EuGeStA, 5 (2015), 27-53.
Pontani Filippo Maria, "Introduzione", in Le guerre: persiana, vandalica, gotica / Procopio di Cesarea, ed. Marcello Craveri (Torino: Einaudi, 1977).
Poulakou-Rebelakou Effie, Lascaratos John, and Marketos Spyros, "Abortions in Byzantine times (325-1453 AD)", Vesalius, 2, no. 1 (1996), 19-25.
Rapp Claudia, Afentoulidou Eirini, Galadza Daniel, Nesseris Ilias, Rossetto Giulia, and Schiffer Elisabeth, "Byzantine Prayer Books as Sources for Social History and Daily Life", JÖB, 67 (2017), 173-212.
Rizzo Nervo Francesca, "Il parto bloccato: metamorfosi di un motivo letterario", in Munera amicitiae: studi di storia e cultura sulla tarda antichità offerti a Salvatore Pricoco, eds. Rossana Barcellona, and Teresa Sardella (Soveria Mannelli: Rubbettino, 2003), 407-427.
Robert Taft, "Women at Church in Byzantium", DOP, 52 (1998), 27-87.
Velkova Velkovska Elena, "Byzantine Liturgical Books", in Handbook for Liturgical Studies, vol. I, ed. Ansgar J. Chupungco (Collegeville, MN, 1997), 225-240.
Vikan Gary, "Art, Medicine, and Magic in Early Byzantium", DOP, 38 (1984), 65-86.
Vilatte Sylvie, "La nourrice grecque: une question d'histoire sociale et religieuse", L' Antiquité Classique, 60 (1991), 5-28.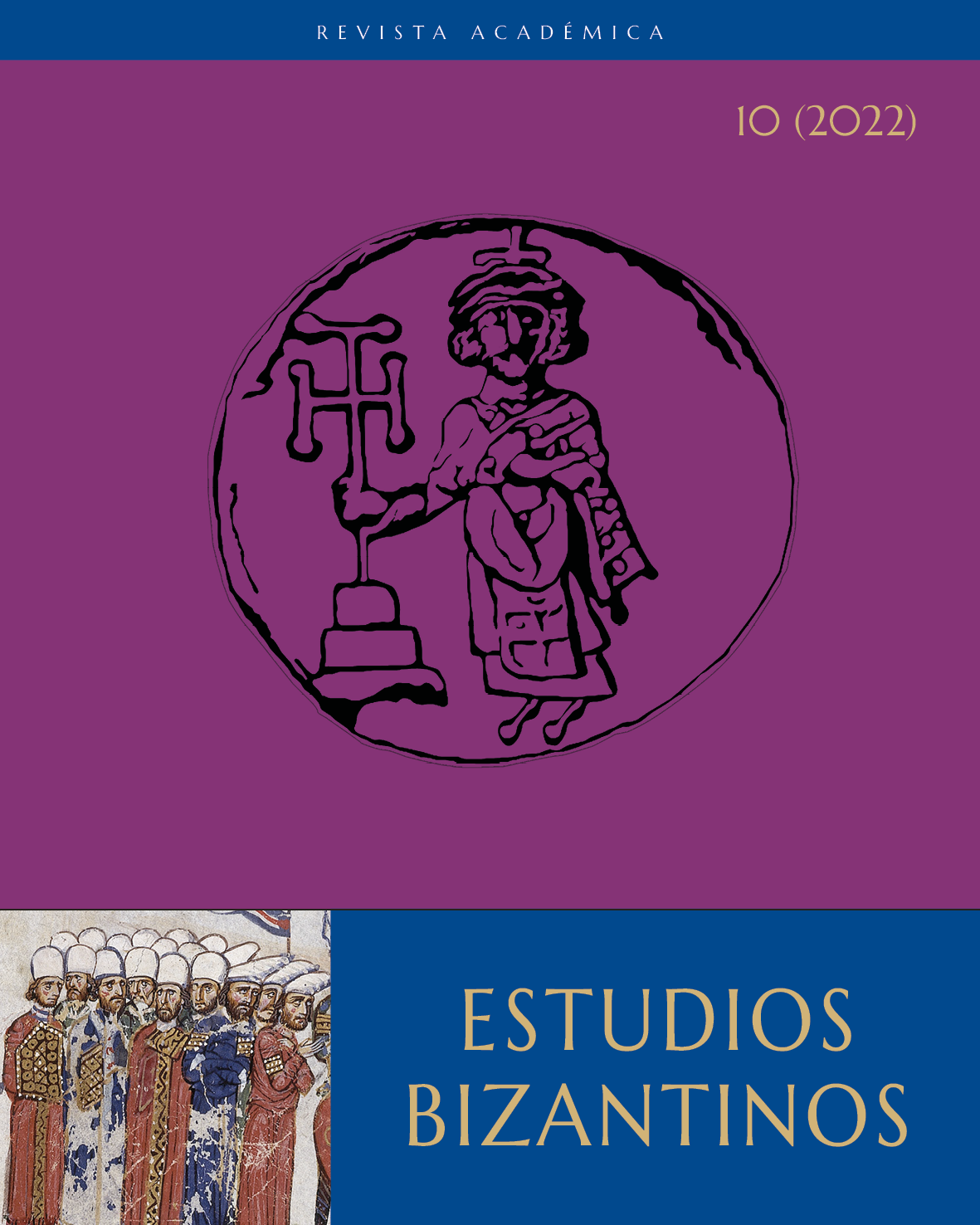 Descargas
Cómo citar
Gollo, G. . (2022). Midwives in Byzantium: An Overview. Estudios Bizantinos, 10, 97-121. https://doi.org/10.37536/ebizantinos.2022.10.2071
Licencia
Derechos de autor 2022 Giulia Gollo
Esta obra está bajo una licencia internacional Creative Commons Atribución-NoComercial-CompartirIgual 4.0.
Usted es libre de:
Compartir — copiar y redistribuir el material en cualquier medio o formato
Adaptar — remezclar, transformar y crear a partir del material
Bajo las condiciones siguientes: